Last month, of all the TV shows and movies I watched,
Unbreakable Kimmy Schmidt
was probably the most memorable and my absolute favorite. I was completely hooked from the first episode and within a couple hours I found that I had finished the entire season! If you guys decide to only have one binge-watching session on Netflix, I would strongly recommend
Unbreakable Kimmy Schmidt.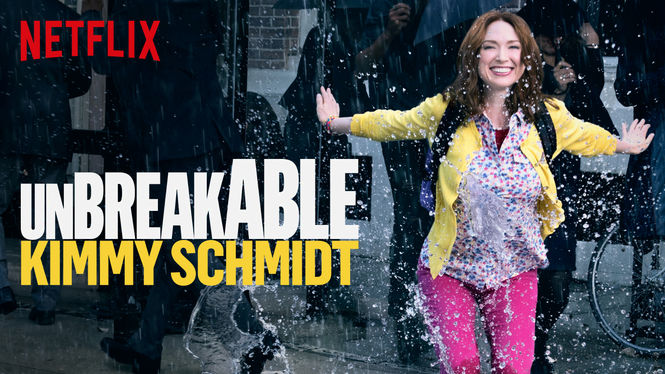 The story starts in an underground bunker where four women have been trapped for 15 years, lured in by a charismatic cult leader (played by Jon Hamm). They are having their Christmas party when they are suddenly rescued by the police. Upon seeing the outside world for the first time in a decade and a half, Kimmy (played by Ellie Kemper) lights up with a million-dollar grin that can only be expected of a naive Indiana girl who had been to hell and back. After an interview on the Today show, she decides that she doesn't want to go back to Indiana where all she'd be known as is a victim. Instead, she chooses a life of anonymity in Manhattan, living with a fabulous struggling actor, Titus Andromedon (Tituss Burgess) with a kooky landlady, Lillian Kaushtupper (Carol Kane). She gets a job as a nanny for a wealthy trophy-wife, Jacqueline Voorhees (Jane Krakowski) who has a few secrets of her own.
The thing I love about this show (besides the fact that it's so funny and written by the queen herself, Tina Fey), is how feminist it is. The opening credits even includes the line, "Females are strong as hell!" The premise is about a girl who sheds the title of "victim" to reclaim her own identity. If that's not a show with a strong female lead, I don't know what is! The show also deals with racism, white privilege, and immigration but it does so in such a witty way that it doesn't feel like a lecture. I was a big fan of 30 Rock and I would say the show has a similar style - it's Tina Fey after all.
If you like feminist shows that are completely hilarious to boot, this is the show for you. Ellie Kemper is absolutely a delight to watch - her character is so cute, funny, and you will love how hard she tries at everything she does. I highly recommend this show!