Book Club: The Wild Robot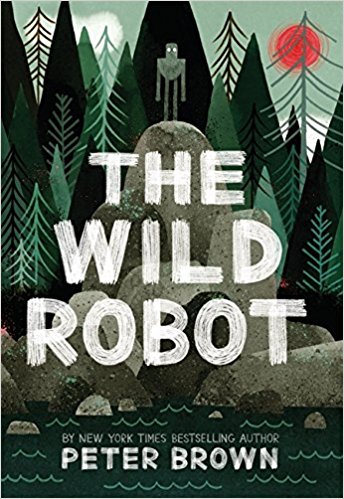 The Wild Robot by Peter Brown
Jen is always finding the most interesting books. I was intrigued by this cute picture book and I was so happy Jen had read it and wrote this review. I hope you enjoy.
goodreads synopsis
When robot Roz opens her eyes for the first time, she discovers that she is alone on a remote, wild island. Why is she there? Where did she come from? And, most important, how will she survive in her harsh surroundings? Roz's only hope is to learn from the island's hostile animal inhabitants. When she tries to care for an orphaned gosling, the other animals finally decide to help, and the island starts to feel like home. Until one day, the robot's mysterious past comes back to haunt her...
jen's review
The Wild Robot was a breath of fresh air. It was full of descriptive literary devices, character, and beautiful storytelling.
Brown opens the story with five crates of robots falling off a cargo ship en-route. The first four crates crash on the shores of a remote island, destroying the robots within. However, these remains allow the last crate to make its way to land safely. With the help of some curious otters, the robot Roz is born.
At first Roz is confused and doesn't know how to survive on the island, being mechanic, shiny, and not speaking the language. Eventually Roz becomes determined to learn how to survive. She finds a way to camouflage herself and study the wild animals. She learns how to speak to the animals, how they survive the elements, and the realities of the food chain. Her goal is to be part of the animal society but they see her as a monster until unique circumstances bring her to adopt and raise a gosling. It's through the raising of the gosling that Roz learns the most about family, wilderness, and friendship.
Even though I'm pretty sure it was a kids book, I loved every minute of it. I felt attached to every gosling, beaver, bear, and robot. Additionally a month after reading, I find myself thinking this book would be a perfect read for families, particularly unconventional families. A lot of difficult topics are dealt with in this book like loneliness, death, unique family structures, adoptions, standing up for your loved ones, etc.
Throughout her journey, Roz discovers a lot about what it means to be develop relationships and becomes a protector of her new home. When outside forces her to contend with her with unconventional lifestyle, she stands up for to those forces and protects the ones she cares about.
This is a short review, but it was a short read. The audiobook was only 4 hours and it only took a day and half to finish but the literary devices added so much imagery and texture to the story. For such a short book, this story had so much depth and was so sweet. I am excited to read the next part in the series. Unfortunately, there's not much more to say without spoiling the whole plot. But at the end of the day, I recommend this book to any age group and to anyone who's interested in a palette-cleansing book full of adventure and love.